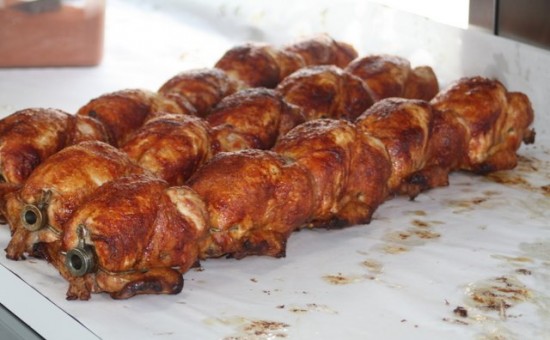 Kauffman's BBQ Chicken Inc.
A chance meeting and $100. So begins the story of Kauffman's BBQ Chicken in 1955. It was Marvin Kauffman who frequented the local farmers markets to sell his fresh, straight-from-the-farm poultry. As fate would have it, Marvin was intrigued by a secret BBQ chicken recipe owned by a gentleman he met at market. So intrigued with this recipe, Marvin paid the gentleman $100 for it and, as they say, the rest is history. While we can't share the recipe with you, we can share with you the value of $100 in 1955! Find out here: http://bit.ly/2sTPyPY
Today, Kauffman's BBQ Chicken holds over 300 catering and fundraising events each year. We are well-known in the area for cooking a chicken that everyone loves and providing organizations with successful fundraisers. We aim to provide a quality product that exceeds expectations without a high price tag.
We look forward to seeing you at a Kauffman's BBQ Chicken event or working with you and your organization on your next fundraiser!
If you're looking for the Kauffman's BBQ Restaurant, please click here.